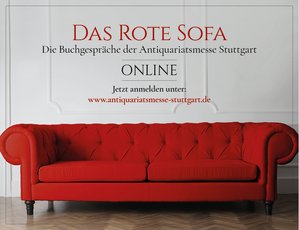 The "Red Sofa" talks series successfully kicked off in January 2020 and were scheduled to continue in 2021. Due to the cancellation of the physical fair, it was only natural to move these events to the internet.
Since October 2020, discussions with authors, rare booksellers and representatives of the trade took place in the run-up to the fair and allowed for dialogue in a virtual space, in German and English language.
The events have now passed but all events have been recorded and can be viewed here.
Heartfelt thanks to all participants - in those times of lockdown, we enjoyed these moments very much.